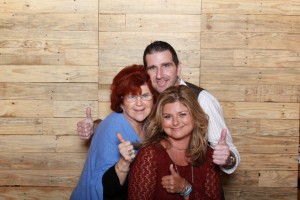 Madeline Balletta, Jason Balletta & Lori Balletta-Avgerinos
In 1984, Madeline Balletta started BeeAlive at her kitchen table to share the powerful health benefits of Royal Jelly and other bee products with others. Today, over 34 years later, Madeline's son Jason and her daughter Lori are continuing BeeAlive's mission of educating individuals how to help their bodies help themselves – inside and out.
Madeline: Nearly 34 years ago, as a young mother with two small children, I found myself physically drained and struggling to keep up with the demands of a busy life. When a friend told me about a natural substance from the beehive called Royal Jelly, I decided to take a leap of faith and give it a try. I had nothing to lose. And I'm grateful that I did because, gradually, I began to feel renewed energy and vitality like never before. Through research, I became fascinated by the elements God has provided in nature to help us feel our best. Inspired to help others, I started my company, BeeAlive, to do just that. Today, almost three and a half decades later, I'm proud to say that BeeAlive's Royal Jelly has made a difference in the lives of hundreds of thousands of people!
Lori: Since I was a little girl Royal Jelly has always been a very important part of my life. My mom started BeeAlive in 1984. As a teenager, I watched my mom, Madeline share with everyone how much Royal Jelly dramatically changed her life and as well as ours, throughout the years. As I grew older, I too shared with everyone how Royal Jelly helped me. My mother and I created and wore buttons that said, "Royal Jelly Works!" to share our passion for helping people feel their best. I went on to study nutrition and received a Master's Degree so I could help BeeAlive even more! Today you will find me at BeeAlive's public events still spreading the message of how amazing fresh, non freeze-dried Royal Jelly is. I enjoy showcasing our products every month whether it is a conference or a festival or a local charity event. I also look forward to seeing all our customers who are local to BeeAlive and come in and shop at our retail shore! I continue to be passionate about changing the lives of everyone I meet! Bee Blessed!
Jason: As my mother learned more about the importance of healthy nutrition, she became not only my greatest teacher, but conveyed her knowledge and passion to others. I was brought up to do the same, and today, as president of BeeAlive, I strive every day to continue my mom's mission of helping others feel their absolute best. And thank goodness my mom taught me what she did; as the parents of triplets, my wife, Rose, and I need all the energy we can get! Between running the family business and taking care of the kids, with Royal Jelly, we never miss a beat!
Rose: It is amazing how Royal Jelly has affected my life. A few years ago, I was busy with my career, and then, boom! I was pregnant with triplets! I wasn't sure how I would have the energy to care for not one newborn, but three! But by faithfully taking Royal Jelly every day, I was able to take care of the kids while working alongside Jason. Now my babies are getting older and running all over the place, but I can still keep up! I tell them their supermom's secret is her superfood, Royal Jelly. I cannot imagine my life without it and am so grateful my mother-in-law, Madeline has shared this wonderful gift.
BeeAlive respects what nature has created.
Whether you're a grandmother keeping up with your grandkids like Madeline, a dad trying to burn the candle at both ends like Jason, or a mom balancing children and a career like Rose, BeeAlive Royal Jelly is the answer. For over 34 years, nature's precious substance has been revitalizing individuals of all ages and generations. So, if you're tired of feeling tired and unable to keep up with the demands of life, do something for yourself today… try BeeAlive!