Meet Me At The Fair!
---
25.05.2017 / admin / No Comments

---
Come one! Come all! Meet us at the Nyack Street Fair!
Lori Balletta, our COO and daughter of our founder, Madeline Balletta showcases BeeAlive's products and much more at the Nyack Street Fair in Nyack, NY! Nyack is just a hop, skip and a jump away from our headquarters in Congers, NY and allows thousands to experience BeeAlive products in person as well as gives BeeAlive a chance to be a part of the amazing Nyack community.
It is very important to us to support and be a part of our community. It has been our vision and our founders vision to reach out to as many people as we can and help them anyway possible. Lori enjoys not only speaking to people that attend the fair but also making lifelong friends that become part of the BeeAlive family!
When people come by the BeeAlive booth they can taste and experience Royal Jelly in person as well as try our luxurious skin care line! Lori also has other treasures that she has on display to see!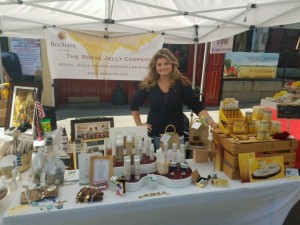 If you are ever in the Nyack area please do try to come to the fair! In addition to great food and crafts, it is a great day out with the family and be sure to stop by and say hello to BeeAlive!
You can learn more about the Nyack Street Fair at www.visitnyack.org