A Housewarming Party for Bees
---
16.02.2017 / admin / No Comments

---
We are very excited to sponsor a beehive at Bluestone Farms in Millrift, Pennsylvania. We also had the privilege to attend this exciting event, explore the farm, meet the master beekeeper and take some really awesome photos.
Bluestone Farms is a beautiful, serene, permaculture farm where plants, animals, landscapes, structures and humans are integrated into symbiotic systems where products of one element serve the needs of another element. Not to mention but also a family-owned farm.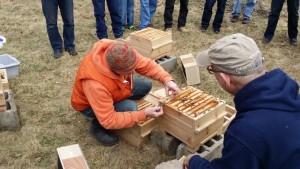 Jason and Rose brought their kids, Evelyn, Julia and Jax to watch the master beekeeper bring the bees to their brand new beehives at Bluestone Farms. The kids even got to help dig to make room for the hives! In addition to seeing the bees the kids got to meet the very so cute Highland Cattle as well as the cute little pigs and chicks!
If anyone is every in the Mill Rift area be sure to check them out. They even have a cool market to shop at!